Nichola Balestri
Three Summers – Directed by Ben Elton
Three Summers (2017), A Feature Film
---
Ben Elton tackles racism and immigration in new film comedy Three Summers

The Sydney Morning Herald
Garry Maddox
Saturday, October 15, 2016
It takes a loud shot from a starting pistol to scatter a flock of squawking black cockatoos.
Once the noise clears at dusk on the set of Ben Elton's new film, the comedy Three Summers, Michael Caton launches into a touching speech from a tent in a camping ground.
He is playing a morris dancer returning to an annual folk music festival with his adult daughter (Caroline Brazier from Rake) and teenage granddaughter (newcomer Nichola Balestri) after his wife's death.
When the scene finishes, Elton charges over to the actors beaming.
"Another magnificent effort from the acting department," he says cheerfully. "And thank you background artists. Much appreciated."
The perpetually chatty comedian, writer and director is making his first Australian film, shooting at Pinjarra, an hour's drive from his home in Fremantle, in Western Australia.
Watch the Official Trailer!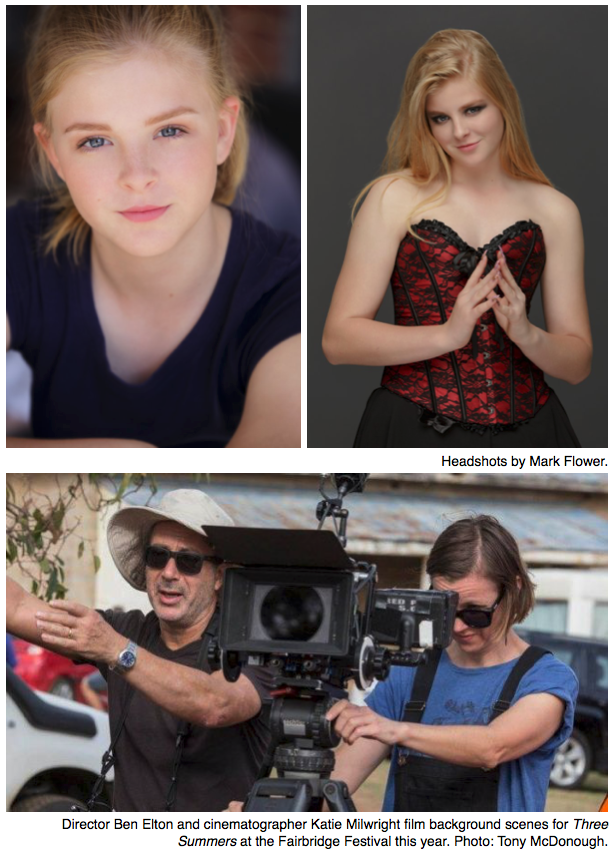 It's the latest development in an impressive comedy career that has included such hit television series as The Young Ones and Blackadder, the musicals We Will Rock You and Love Never Dies, 15 novels and the British film Maybe Baby.
Three Summers takes place over three consecutive years at a West Australian festival called, cutely, Westival.
Elton is filming at the venue for the real life Fairbridge music festival, which inspired the film. After going along regularly with his family, he has now become one of its patrons.
"I was sat at the festival for the second year thinking this is deja vu, Groundhog Day," Elton says between scenes. "But it struck me that, of course, everyone has moved on.
"My life has moved on and last year's buskers are this year's grumpy teens. Last year's lovers are this year's young parents.
"I thought wouldn't it be fun to track a few stories over a number of summers."
Elton calls the film "a multi-story, quirky comedy" centring on a love story between two young musicians, played by former Home and Away actress Rebecca Breeds and Robert Sheehan, an Irish actor best known for the TV series Misfits.
The cast also includes Magda Szubanski as the festival announcer, Deborah Mailman, Jacqueline McKenzie and John Waters.
Around the love story, Elton is tackling such subjects as racism and immigration in Australia with the characters including a forced child migrant from Britain (Caton), a young Aboriginal dancer (Joseph Pedley) and a fostered Afghan refugee (Amay Jain).
"I wanted it to be Australia in a tent," he says. "The stories that swirl around that romance – and connect to it every now and then – some of them have got some real edge to them.
"Clearly the refugee issue is crucial to the Australian psyche – who we are is really being defined at the moment by the change in the global climate and in particular the refugee crisis … and, of course, the nightmare experience for the Aboriginal community."
Shooting his first film since Last Cab To Darwin, Caton describes his character as "the classic migrant who resents Aborigines and resents other migrants" but he responded to the heart in the story.
"There are heaps of characters and everyone gets a go," he says.