Melissa George
Heartbeat – Directed by Allison Liddi-Brown
Heartbeat (2016), US TV Series
---
Perth actress Melissa George stars in new US TV series Heartbeat
PerthNow
Amy Martin
Saturday April 10, 2016 12:00am
MELISSA George couldn't have known it at the time, but walking the wards of Perth hospitals as a schoolgirl was perfect preparation for the biggest role of her career.
The 39-year-old this week told The Sunday Times how as a youngster growing up in Perth's northern suburbs she would often visit her mother Pamela, a nurse, at work.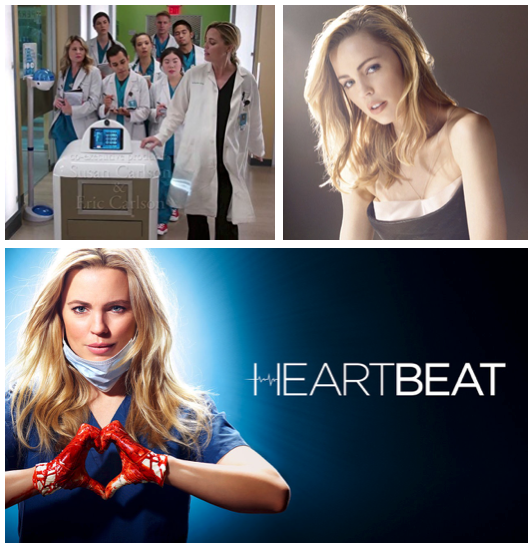 Now a mum of two herself, George is the star of new US TV series Heartbeat and splits her time between Paris and New York, but said she still felt "most complete" when she comes home to Australia.
The medico-drama sees George adorn the medical scrubs as leading lady Dr Alex Panttiere, an outspoken, world-renowned heart transplant surgeon.
"I used to spend a lot of time with my mum in the hospital, just visiting her when she was at work," George said.
"I can't remember which hospital actually, Princess Margaret maybe? But I think my whole lifetime has led up to this point and this experience."
It's been more than a year since George returned to Perth.
Although she has since given birth to her second son, Solal, in November, the former Home and Away star doesn't have any plans for a WA break with her family.
"(Australia) is where I'm most complete. If I'm to be honest, everything just feels right," George said.
"When I come home, it's almost like my shoulders go down, I take a big deep breath. It's the best, it's my home.
"I lived in Sydney when I was 16, when I was doing Home and Away. It was the most pivotal time in my life, the most incredible time in my life, but I grew up in Perth.
"I got the best of both worlds."
Heartbeat premiered on Foxtel's Universal Channel this week.
For the full interview with George, see today's The Sunday Times Guide.