Holly Barrett
Life In Pieces – Created by Justin Adler
Life in Pieces (2015-17), US TV Series
---
Perth actress Holly J Barrett stars in CBS's new family comedy Life in Pieces
news.com.au
Amy Martin
Saturday, July 2, 2016, 3:46PM
BASED in Los Angeles at just 14 with a major acting role in a new prime time sitcom, pulling in more than 10 million viewers, life is sweet for Perth-born Holly J. Barrett.
The CBS'family sitcom Life in Pieces has been renewed for a second series and Australian television viewers will be introduced to the comedy series when it airs on Network 10 later this year.
Holly, who began her acting career at the tender age of eight in Perth, brings to life the character Samantha Hughes in the Modern Family-esque Life in Pieces, alongside I am Sam actor Dianne Wiest, Breaking Bad's Betsy Brandt and King Kong actor and Tom Hanks' son, Colin Hanks.
The show's pilot attracted 10.58 million viewers when it aired in the US.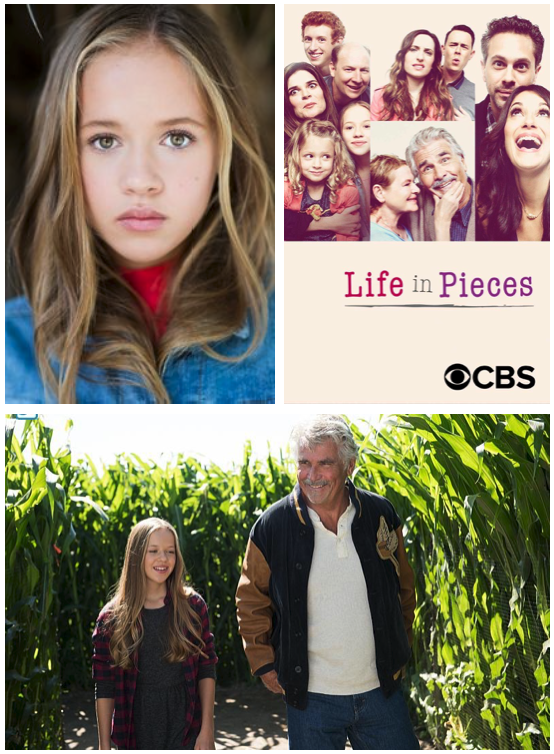 Holly landed her first acting gig in Black Swan State Theatre Company's performance of Cat on Hot Tin Roof in 2011 and spent 2014 working with Sex and the City's Kristin Davis in Fatal Attraction on London's West End
"The first time I met with anyone that was 'big' was on the West End with Kristin Davis and that alone made me feel like I had come a long way, but I didn't realise how much further it was going to go," she told The Sunday Times this week.
"I was so nervous to meet them because obviously they're people that I've seen on TV and heard their names before so I was anxious because I didn't want to be the fangirl.
"Luckily they all made me feel comfortable and were friendly."
Her success means that Holly will be based in Los Angeles for the foreseeable future, but the teenager is looking forward to returning home later this year to celebrate an Australian Christmas.
Originally published as 'Perth teen's Hollywood life'