Freya Tingley
Hemlock Grove –  Created by Brian McGreevy, Lee Shipman
Hemlock Grove (2013-15), A Netflix Original
---
Perth Teen's Horror Run To Fame
The West Australian
Lindsay McPhee
Wednesday, May 16, 2012 8:32AM
After landing a lead role in a new US horror TV series alongside X-Men star Famke Janssen and Hollywood heart-throb Dougray Scott, 18-year-old Perth actor Freya Tingley looks set to become our latest hit export.
Tingley, who narrowly missed out on the lead role in block- buster The Hunger Games, will fly to Toronto next month to begin filming Hemlock Grove, a series based on Brian McGreevy's gothic horror novel, which has all the hallmarks of a cult classic.
The Mt Claremont teenager will play 14-year-old Christina Wendall as her co-stars – a werewolf and a vampire – attempt to solve the murder of a young girl.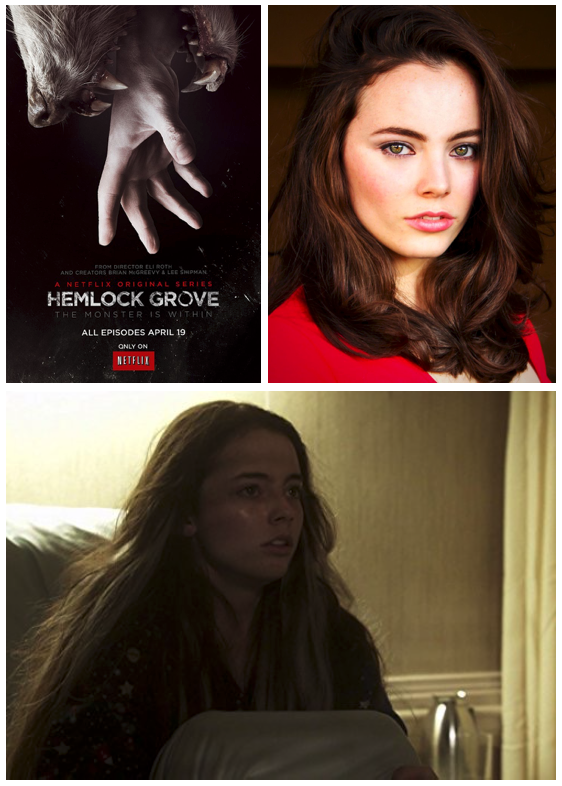 Now based in Los Angeles where she lives with her mother, Coppelia, Tingley has also starred in short films and played Hat Lamb in the TV adaptation of Cloudstreet. The former Methodist Ladies' College student has the grit and determination to make it in Hollywood.
"I always wanted to do something creative and I was dead-set on becoming an actress," Tingley said. "I'm very determined.
"I've read the first episode and I've read the book and I just loved it. There's a large fan base out there for vampires and werewolves but the show isn't aimed at teenagers. It's more like True Blood.
"It's great being able to work with people so respected in the industry. I'm really excited."
Netflix, which will screen Hemlock Grove next year, anticipates immediate success and bypassed making a pilot to test support.
There are also two more books in the pipeline so Tingley won't be short of work if a second series is commissioned.
Tingley's mother said her daughter had worked hard and sacrificed many "regular teenage things" for a shot at the red carpet.
"It's a bit surreal," she said. "You always wonder what your children are going to be when they grow up and then you wake up one day and realise she is going to be a Hollywood actor."