Screen Acting ONLINE
Due to Covid-19 Restrictions our classes have moved online.

Check-out our exciting new content below!
Screen Acting Online covers essential skills and techniques for the young, budding actor. These include:
Character development
Scene work with individual feedback
Each student receives a copy of the work they film in-class via a downloadable link
Special Q&A with film and TV actors who have trained at the studio!
Parent Performance
We strive to nurture the individual performer and create a fun, positive group environment. Class curriculum is always varied, challenging and fun!
Get started today!
Date 20th-22nd
Time 10am-12pm
Price $165
Book HERE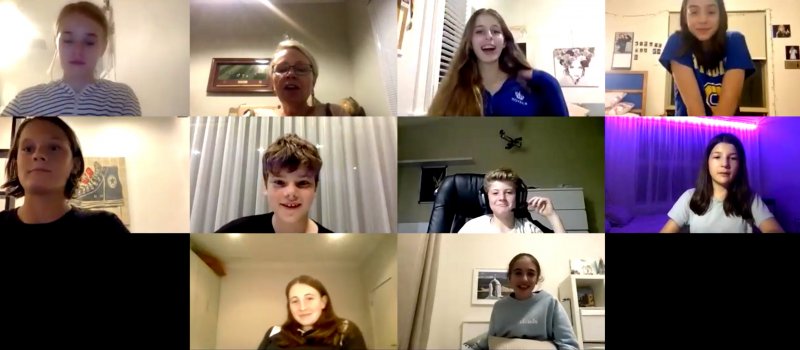 Some of our current students at our online classes!
This DOES NOT replace the Stage & Screen Workshop, it is PART 1. This online workshop is designed to kick-start students on their acting journey, whilst have fun engaging with their community in a positive way during this difficult time. Students will be required to complete the Stage & Screen Workshop (once Covid-19 restrictions are lifted) before going into mainstream classes.
We have reviewed all our classes to be available online. Some of our past content is not available at the moment due to Coivd-19 restrictions.
Please disregard the below information as it is based on our in-person courses.
Stage & Screen
Ali Roberts studio has taught my boy so much! Highly recommend this place for any person young or old wanting experience within the acting/performing industry!

My daughter Lexie just finished the Stage and Screen Prerequisite program over the last week and has begged to do more!!!

Absolutely love the team at Ali Roberts Studio! Genuinely caring, great family environment whilst being seriously professional. Thanks to Ali, Peter, Maxine & Sally for creating such a supportive, happy Studio!

It's been a long time coming and we FINALLY made the right decision to put our daughter in the hands of Ali and team and we have NEVER looked back. The professionalism and friendship were beyond our expectations and has made us realise we should have brought her years ago! Thank you for being so inspirational and knowledgeable. Our girl has grown so much in such a short time.

Ali Roberts Studio is very professional, friendly and practical. My daughter loved this week of learning!

My 8 year old daughter attended the screen workshop over the school holidays and absolutely loved it. Her words were "the best activity I have ever done in my life". She has never done any drama before but it has inspired her to continue on a more permanent basis. Great and professional staff, amazing program and highly recommended.

A brilliant acting studio for all keen actors. Enthusiastic, fun and positive teachers and interesting classes. Very professional!

Professional, helpful, inspiring staff! Thank you

Edie absolutely loved the 3-day workshop and is now loving her Saturday morning classes. It's such a wonderful opportunity for her to be herself, explore and learn. All the staff are just wonderful and Ali you're the best. Thanks for the start of making Edies dreams come true! 🙏🏽🙏🏽🙏🏽

My 6-year-old absolutely loved doing the Screen and Stage 3 day workshop. Ms Charlotte is a great teacher and her weekly classes are as much fun and very professional. Highly recommend.
Stage & Screen covers essential skills and techniques for the young, budding actor. These include:
Character development and improvisation
Scene work
Self-tape camera skills
Theatre sports
Industry standards and information
What sets this class apart is our emphasis on developing strong acting skills for stage and screen, preparing students for an industry
where versatility is crucial.
As with all of our classes, we strive to nurture the individual performer and the ensemble cast member. No term is ever the same, which is why some of our students have attended lessons for over 7 years. Class curriculum is always varied, challenging and fun!